The use of medications to improve mental health is not only controversial, it's confusing. As a clinician, not only do you need to be on top of the latest developments, but you also have to take that information and use it effectively with your client.

And to make matters worse, psychopharmacology trainings are often complicated and hard to sit through.

It's time for a change...

Join expert Tom Smith, P.D., FASCP, LMHC, NCP, BCCP, in this one of a kind online course to get the most up-to-date psychotropic medication information in an engaging style that keeps you focused. Together, you'll walk step-by-step through the latest medication trends for depression, bipolar, anxiety, schizophrenia, ADHD, and Alzheimer's disease.

In three captivating modules, you will gain the tools and strategies you need to:
Improve clients' understanding of their mental illness and how medication aids recovery
Select appropriate medications for each disorder and age group
Improve client adherence to medications
Help clients manage unpleasant side effects
And so much more!
Transform your practice and improve your client's outcomes with psychopharmacology skills that complement your psychotherapy efforts!

---
---
This is your opportunity to enroll in the gripping course your colleagues are raving about:

"This is the best psychopharmacology lecture I have ever experienced. I loved every minute!"

"Mr. Smith was one of the best presenters I have ever had the pleasure of hearing. He is incredibly knowledgeable, great humor/wit, and his presentation style was wonderful. He brings a certain genuineness that most speakers cannot convey during a presentation. Wonderful overall! I would absolutely love to attend another program with Mr. Tom Smith."

"The presenter made the information fun to learn. I appreciated how much I was able to learn from this course. Very helpful!"
Here's what you'll learn in this engrossing training...
Psychiatric medications are only effective when they are used correctly. Join Tom Smith, P.D., FASCP, LMHC, NCP, BCCP, for three step-by-step modules where you'll discover how medications can help manage depression, bipolar, anxiety, schizophrenia, ADHD, and Alzheimer's disease, as well as what your clients can expect with each medication and how you can increase your client's compliance.

Transform your practice with this intensive online training

Begin your journey with psychopharmacology through a foundational understanding of the science behind the clinical issues you see every day in your practice.

Module 1 uncovers:
How psychopharmacology was "born"
An enzymes purpose and why this is so important to psychopharmacology
How the body makes serotonin
When and why to give amphetamines
Dopamine's importance and what symptoms occur when the levels are unstable
How the body uses homeostatic mechanisms to keep neurotransmitters in balance
The theory of agonism and antagonism
The DSM-5 and medications

In Module 2, you'll begin to look at when you should use certain medications and how these medications are thought to work. With a better understanding of this process you will be able to explain to your clients WHY they are (or should be) taking certain medications. Included in this module, is a printable tool you can use to right away to improve your client compliance with medications.

Module 2 highlights:
What it means when a drug is "new on the market"
Strategies for when your client is taking their prescription incorrectly
How antidepressants are thought to work
Why we use cyclics and what side effects may be present

In the final module, you'll discover more about how certain medications are thought to work and how you can use them to achieve the best outcomes for your clients. You'll then learn what's new, old, what is coming to market, and why you need to keep these things in mind for your clients.

In module 3 you will go over:
How SSRIs are tolerated and common side effects
Common antidepressants and why they are used
Treatment strategies for "treatment resistant depression"
Medicating Bipolar disorder with antianxiety agents, antidepressant medications, and antipsychotic drugs
What you need to know about mood stabilizers
ADHD medications — what's new, old, stimulants vs non-stimulants and more
Drug treatments for Alzheimer's disease
---
---
Enroll today and you'll get this FREE Bonus item — a $24.95 value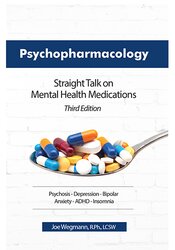 Psychopharmacology
Straight Talk on Mental Health Medications, Third Edition
By: Joseph Wegmann, R.PH., LCSW
Included in your tuition for this online course is a free PDF download of Joe Wegmann's award winning book (IBPA Benjamin Franklin Award), Psychopharmacology: Straight Talk on Mental Health Medications, Third Edition.

This is the definitive guide and desk reference for professionals and clients to expand their knowledge in the pharmacological and behavioral treatment of psychosis, anxiety, depression, bipolar, insomnia and ADHD.

New to the third edition:
DSM-5® and psychotropic medication prescribing
New risk factors with antidepressants
Anxiety treatment -- what should not be medicated
Herbal and other alternative treatments
Latest in geriatric psychopharmacology
Psychotropic medication discontinuation-safe strategies that work
Additive and combination medication protocols
Newly released psychiatric medications
Dosage Range Charts
---
---
Get to know Tom Smith, P.D., FASCP, LMHC, NCP, BCCP
Tom Smith, P.D., FASCP, LMHC, NCP, BCCP, is a Doctor of Pharmacy, a Licensed Mental Health Counselor, a Nationally Certified Psychologist, and a Board Certified Clinical Counselor. He holds academic appointments at Butler School of Pharmacy and Health Sciences, the Saint Louis University School of Graduate Nursing, and the University of Phoenix. Tom is a Fellow of the American Society of Consulting Pharmacists. Tom has spoken on Bipolar Disorder, the DSM-5®, and psychopharmacology throughout the United States, He is the author of Psychopharmacology Made Simple: A Primer, and he is internationally published on the topic of Aromatherapy.

Tom maintains an active private practice in Martinsville, Indiana, where he works with clients of all ages.
Speaker Disclosures:

Financial: Tom Smith maintains a private practice. He will address 'off-label' uses of commercial products. Mr. Smith is a speaker who receives an honorarium for PESI, Inc.
Non-Financial: Tom Smith is nationally published on the Americans with Disabilities Act and receives no compensation.
---
Learning that Fits YOUR Schedule:

Watch your email for your order confirmation, and get instant access to the comprehensive training plus the free bonus — all designed to inform you on the latest psychiatric medication information so you can effectively help your clients.

Access all course videos and materials online forever.
Plus, use the PESI Mobile™ app to access the course content on-the-go, wherever and whenever you want on your mobile devices.
Click here for course objectives and outline
.

Instantly collaborate with other professionals on the course materials through interactive message boards. You'll be part of an exclusive community of hundreds of practitioners.

Complete your online CPD tests and earn up to 6.5 CPD hours!
Continuing Professional Development Certificates:
PsychOz Publications, in collaboration with PESI in the USA, offers quality online continuing professional development events from the leaders in the field at a standard recognised by professional associations including psychology, social work, occupational therapy, alcohol and drug professionals, counselling and psychotherapy. On completion of the training, a Professional Development Certificate is issued after the individual has answered and submitted a quiz and course evaluation.
---
100% Satisfaction Guarantee
Register for this comprehensive training course without risk. If you're not completely satisfied, email us at courses@pesi.com. We're that confident that you'll find this learning experience to be all that's promised and more than you expected.